About Us
Best Food is a Chinese takeaway in Nottingham. Why don't you try our Thai Green Curry or Fish in Sweet & Sour Sauce (with Bones)?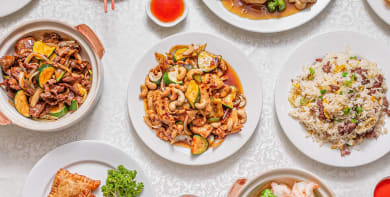 Reviews
119 reviews
William
"Driver went to wrong address, but credit goes to food arriving still hot. Overall happy. Thank you"
29/07/2021
Joy
"Always arrives in good time and well packed, drivers are friendly and the food is always really good. Great veggie options too"
16/07/2021
Doreen
"I have ordered from Best Food before and it is always excellent!!!"
13/07/2021
Aerin
"We love Best Food. We never order Chinese from anywhere else, definitely the best in Lenton in our opinion x"
10/07/2021
Menu
Coca-Cola Original Taste 330ml Can
£1.30
Crispy Aromatic Duck Quarter
Served with spring onions, cucumber, pancakes & homemade hoi sin sauce
£8.80
Crispy Aromatic Duck Half
Served with spring onions, cucumber, pancakes & homemade hoi sin sauce
£16.50
Crispy Aromatic Pork
Served with spring onions, cucumber, pancakes & homemade hoi sin sauce
£8.30
Mix Platter For 2 Persons Barbecue Sauce
4 Barbecued spare ribs, 2 pancake rolls & 2 sesame prawn toast
Choice of barbecue, curry or sweet & sour sauce
£7.00
Mix Platter For 2 Persons Curry Sauce
4 Barbecued spare ribs, 2 pancake rolls & 2 sesame prawn toast
Choice of barbecue, curry or sweet & sour sauce
£7.00
Mix Platter For 2 Persons Sweet & Sour Sauce
4 Barbecued spare ribs, 2 pancake rolls & 2 sesame prawn toast
Choice of barbecue, curry or sweet & sour sauce
£7.00
Deep Fried Crispy Crab Claws (2)
£3.30
Deep Fried Crispy Seaweed
£3.50
Butterfly King Prawn Breadcrumbs (3)
Prawn cutlet
£3.70
Salt & Pepper Chicken Wings
£4.40
Spicy Fruity Chicken Wings
£4.40
Satay Chicken on Skewers (4)
£4.80
Fried Crispy Wan Ton (10)
With sweet & sour sauce
£3.50
Grilled Chicken Dumplings (6)
£5.20
Grilled Pork Dumplings (6)
£5.20
Tom Yum Soup
Enriched with coconut cream
£3.80
Chef's Special
King prawn, chicken, roast pork & vegetables
£6.00
Happy Family
King prawn, beef, chicken & vegetables
£6.00
Wandering Dragon
King prawns & roast pork with vegetables in black bean sauce
£6.00
Wandering Phoenix
King prawn & chicken with vegetables in black bean sauce
£6.00
Aromatic Crispy Pork in Sauce
Gently fried until crispy & cooked in a chefs special sauce, served on a bed of pineapple
£6.20
Yin Yong Chicken
Chicken & roast pork on beansprouts with barbecue sauce
£5.60
Yin Yong Duck
Duck & chicken on beansprouts with barbecue sauce
£5.80
Chicken with Spicy Fruity Sauce
£5.60
Pork with Spicy Fruity Sauce
£5.60
Crispy Shredded Beef in Peking Sauce
£5.80
Crispy Shredded Chicken in Peking Sauce
£5.80
Crispy Shredded Chicken with Spicy Sauce
£5.80
Crispy Shredded Beef with Spicy Sauce
£5.80
Sweet & Sour Chicken in Cantonese Style
£5.80
Chicken & Pineapple in Lemon Sauce
£5.80
Chicken & Pineapple in Orange Sauce
£5.80
Roast Chicken in Chinese Style
£5.60
Best Food Fried Rice (Wet)
£6.00
Nasi Goreng (Singapore Fried Rice)
£5.90
Mixed Vegetable Fried Rice
£5.40
Best Food Chow Mein (Wet)
£6.00
Mixed Vegetable Chow Mein
£5.40
Bami Goreng Singapore Chow Mein
£5.90
Fried Vermicelli F. Mixed Vegetable (V)
£5.60
Fried Vermicelli C. Chicken
£5.70
Fried Vermicelli E. Roast Pork
£5.70
Fried Vermicelli G. Bean Curd
£5.70
Fried Vermicelli A. King Prawn
£6.00
Satay Vermicelli F. Mixed Vegetable (V)
£5.40
Satay Vermicelli C. Chicken
£5.50
Satay Vermicelli E. Roast Pork
£5.50
Satay Vermicelli G. Bean Curd
£5.50
Satay Vermicelli A. King Prawn
£5.80
Sweet & Sour King Prawn Ball
£5.80
Sweet & Sour Chicken Ball
£5.50
Sweet & Sour King Prawn Hong Kong Style
£6.00
Sweet & Sour Chicken Hong Kong Style
£5.60
Sweet & Sour Pork Hong Kong Style
£5.60
Sweet & Sour Mixed Special Hong Kong Style
£6.00
Curry K. Mixed Vegetable (V)
£5.20
Curry H. Mock Chicken (V)
£5.50
Egg Foo Yung H. Mushroom (V)
£5.50
Egg Foo Yung I. Mixed Vegetable (V)
£5.50
Egg Foo Yung E. Roast Pork
£5.60
Egg Foo Yung A. King Prawn
£6.10
Mushroom Vegetarian Chicken
£5.50
Black Bean Sauce Vegetarian Chicken
£5.50
Chop Suey Vegetarian Chicken
£5.50
Mixed Vegetables Vegetarian Chicken
£5.30
Black Pepper Vegetarian Chicken
£5.50
Bamboo Shoots & Water Chestnut Chicken
£5.50
Bamboo Shoots & Water Chestnut Vegetarian Chicken
£5.50
Pineapple Vegetarian Chicken
£5.50
Tomato Vegetarian Chicken
£5.50
Ginger & Spring Onion Chicken
£5.50
Ginger & Spring Onion Vegetarian Chicken
£5.50
Honey Spicy Sauce Chicken
£5.50
Honey Spicy Sauce Vegetarian Chicken
£5.50
Cashew Nuts Vegetarian Chicken
£5.50
Broccoli in Oyster Sauce Chicken
£5.50
Broccoli in Oyster Sauce Vegetarian Chicken
£5.50
Straw Mushroom Vegetarian Chicken
£5.50
Kung Po Sauce Vegetarian Chicken
£5.50
Satay Sauce Vegetarian Chicken
£5.50
Hoi Sin Sauce Vegetarian Chicken
£5.50
Szechuan Sauce Vegetarian Chicken
£5.50
Beef with Black Bean Sauce
£5.60
Beef with Mixed Vegetables
£5.60
Beef with Bamboo Shoots & Water Chestnut
£5.60
Beef with Ginger & Spring Onion
£5.60
Beef with Honey Spicy Sauce
£5.60
Beef with Broccoli in Oyster Sauce
£5.60
Roast Pork with Black Bean Sauce
£5.60
Roast Pork with Chop Suey
£5.60
Roast Pork with Mixed Vegetables
£5.60
Roast Pork with Black Pepper
£5.60
Roast Pork with Bamboo Shoot & Water Chestnut
£5.60
Roast Pork with Ginger & Spring Onion
£5.60
Roast Pork with Cashew Nuts
£5.60
Roast Pork with Broccoli in Oyster Sauce
£5.60
Roast Pork with Satay Sauce
£5.60
Roast Pork with Honey Spicy Sauce
£5.60
Duck in Sweet & Sour Cantonese Style
£6.20
Black Bean Sauce Vegetarian
£5.70
Mixed Vegetables Vegetarian
£5.70
Ginger & Spring Onion Vegetarian
£5.70
Ginger & Spring Onion Duck
£6.20
Honey Spicy Sauce Vegetarian
£5.70
King Prawn with Black Bean Sauce
£6.00
King Prawn with Chop Suey
£6.00
King Prawn with Mixed Vegetables
£6.00
King Prawn with Black Pepper
£6.00
King Prawn with Bamboo Shoot & Water Chestnut
£6.00
King Prawn with Pineapple
£6.00
King Prawn with Ginger & Spring Onion
£6.00
King Prawn with Broccoli in Oyster Sauce
£6.00
King Prawn with Straw Mushroom
£6.00
King Prawn with Satay Sauce
£6.00
King Prawn with Hoi Sin Sauce
£6.00
King Prawn with Cashew Nut
£6.00
King Prawn with Kung Po Sauce
£6.00
King Prawn with Szechuan Sauce
£6.00
Squid in Black Bean Sauce
£6.00
Squid in Black Pepper Sauce
£6.00
Squid with Ginger & Spring Onions
£6.00
Squid with Mixed Vegetables
£6.00
Lamb A. Ginger & Spring Onion
£6.60
Lamb C. Black Pepper Sauce
£6.60
Lamb F. Szechuan Sauce (Spicy)
£6.60
Thai Green Curry F. Bean Curd (V)
£6.00
Thai Green Curry G. Mixed Vegetables (V)
£6.00
Thai Green Curry C. Chicken
£6.10
Thai Green Curry A. King Prawn
£6.30
Thai Green Curry E. Special
£6.30
Thai Red Curry F. Bean Curd (V)
£5.80
Thai Red Curry G. Mixed Vegetables (V)
£5.80
Thai Red Curry C. Chicken
£5.90
Thai Red Curry A. King Prawn
£6.10
Thai Red Curry E. Special
£6.20
Thai Sweet Chilli Sauce C. Chicken
£5.90
Thai Sweet Chilli Sauce B. Beef
£6.00
Thai Sweet Chilli Sauce A. King Prawn
£6.10
Thai Sweet Chilli Sauce D. Duck
£6.30
Vegetarian Aromatic Crispy Duck
Served with spring onions, cucumbers, pancakes & homemade hoi sin sauce
£8.00
Vegetable Pancake Rolls (10)
£3.20
Vegetable Hot & Sour Soup
£2.80
Mushrooms in Black Bean Sauce
£4.20
Mixed Vegetables in Black Bean Sauce
£4.20
Bean Curd with Ginger & Spring Onion
£4.90
Bean Curd in Black Bean Sauce
£4.90
Bean Curd with Mixed Vegetables
£4.90
Sweet & Sour Mock Chicken
£4.90
Sweet & Sour Mixed Vegetables
£4.30
Singapore Style Vegetable Chow Mein
£5.00
Singapore Style Vegetable Vermicelli
£5.00
Sweet & Sour Style Vegetable Vermicelli
£5.00
Aubergine with Black Bean Sauce
£5.30
Aubergine with Oyster Sauce
£5.30
Aubergine with Szechuan Sauce
£5.30
Aubergine with Black Pepper
£5.30
Chow Mein with Beansprouts
£3.70
Stir Fried Bamboo Shoots & Water Chestnuts
£3.50
Stir Fried Mushrooms in Gravy
£3.70
Stir Fried Mixed Vegetables
£3.70
Stir Fried Broccoli in Oyster Sauce
£3.90
Fried Pork Belly with Chilli Spicy Sauce
£8.80
Sliced Beef with Chilli Oil
£8.80
Fried Lamb with Chilli Spicy Sauce
£8.80
House Spicy Shelled King Prawn
£8.90
Salt & Pepper Shelled King Prawn
£8.90
Shelled King Prawn with Ginger & Spring Onion
£8.90
Shelled King Prawn with Chilli Spicy Sauce
£8.90
Aubergine Fried with Spicy Mince
£8.80
Sauteed Vermicelli with Spicy Minced Meat
£8.80
Fried Chinese Leaves Chilli
£5.80
Fried Chinese Leaves Oyster
£5.80
Fried Chinese Leaves Vinegar
£5.80
Deep Fried Beancurd with Chinese Leaves
£6.50
Lettuce in Garlic & Oyster Sauce
£5.50
Fried Beef Ho Fun Home Made Satay
£6.50
Fried Beef Ho Fun Home Made Spicy
£6.50
Home Made Spicy Vermicelli
£6.50
Scrambled Egg with Tomato
£6.50
Home Made Spicy Udon Beef
£6.50
Home Made Spicy Udon Chicken
£6.50
Home Made Spicy Udon Pork
£6.60
Home Made Spicy Fried Rice
£6.10
3 in 1 Meals - 2 Sausages, Chips & Sauce
Curry, sweet & sour or BBQ sauce
£3.80
3 in 1 Meals - Chips, Rice & Sauce
Curry, sweet & sour or BBQ sauce
£3.80
A1 Meal For 1
Prawn crackers
Sweet & sour chicken battered balls (5)
Beef with mushrooms
Egg fried rice
£9.30
B1 Meal For 2
Sesame prawn toast (1)
Sweet & sour chicken balls (6)
Prawn crackers
Beef with mixed vegetables
Chicken in black bean sauce
Egg fried rice (2)
£19.99
C1 Meal For 3
Mini pancake rolls (3)
Prawn crackers
Yin Yong chicken
Sweet & sour pork in Hong Kong style
Beef with mushrooms
King prawn with mixed vegetables
Egg fried rice (3)
£32.00
D1 Meal For 4
Sesame prawn toast (1)
Prawn crackers (2)
Honey spare ribs
Sweet & sour chicken Hong Kong style
Happy family
Beef with green pepper in black bean sauce
King prawn with mixed vegetables
Yung chow fried rice (2) LARGE
Bottle coke (1)
£39.99
Pineapple Fritters in Syrup
£3.00
Contact Us
Find Us
28 Wollaton Road, Nottingham, NG81FD
We deliver to
NG6, NG7, NG8, NG9