About Us
Best Food is a Chinese takeaway in Nottingham. Why don't you try our Thai Green Curry or Fish in Sweet & Sour Sauce (with Bones)?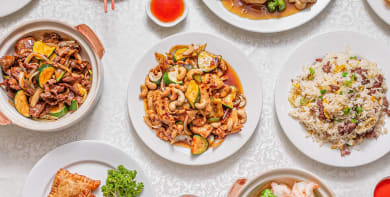 Reviews
91 reviews
Eloise
"10/10 ☀️"
10/07/2020
Gary
"Great as always!!"
04/07/2020
Graham
"Brilliant food, glad they're back. Great Chinese every time and normally delivered early"
27/06/2020
Deborah
"Good quality, value for money and good portions."
19/06/2020
Menu
Tom Yum Soup
Enriched with coconut cream
£3.70
Fried Vermicelli A. King Prawn
£5.70
Fried Vermicelli C. Chicken
£5.40
Fried Vermicelli E. Roast Pork
£5.40
Fried Vermicelli F. Mixed Vegetable (V)
£5.30
Fried Vermicelli G. Bean Curd
£5.40
Satay Vermicelli A. King Prawn
£5.70
Satay Vermicelli C. Chicken
£5.40
Satay Vermicelli E. Roast Pork
£5.40
Satay Vermicelli F. Mixed Vegetable (V)
£5.30
Satay Vermicelli G. Bean Curd
£5.40
Roast Pork with Black Bean Sauce
£5.30
Roast Pork with Chop Suey
£5.30
Roast Pork with Mixed Vegetables
£5.30
Roast Pork with Black Pepper
£5.30
Roast Pork with Bamboo Shoot & Water Chestnut
£5.30
Roast Pork with Ginger & Spring Onion
£5.30
Roast Pork with Cashew Nuts
£5.30
Roast Pork with Broccoli in Oyster Sauce
£5.30
Roast Pork with Satay Sauce
£5.30
Roast Pork with Honey Spicy Sauce
£5.30
3 in 1 Meals - Chips, Rice & Sauce
Curry, sweet & sour or BBQ sauce
£3.60
3 in 1 Meals - 2 Sausages, Chips & Sauce
Curry, sweet & sour or BBQ sauce
£3.30
A1 Meal For 1
Prawn crackers
Sweet & sour chicken battered balls (5)
Beef with mushrooms
Egg fried rice
£8.50
B1 Meal For 2
Sesame prawn toast (1)
Sweet & sour chicken balls (6)
Prawn crackers
Beef with mixed vegetables
Chicken in black bean sauce
Egg fried rice (2)
£17.00
C1 Meal For 3
Mini pancake rolls (3)
Prawn crackers
Yin Yong chicken
Sweet & sour pork in Hong Kong style
Beef with mushrooms
King prawn with mixed vegetables
Egg fried rice (3)
£28.50
D1 Meal For 4
Sesame prawn toast (1)
Prawn crackers (2)
Honey spare ribs
Sweet & sour chicken Hong Kong style
Happy family
Beef with green pepper in black bean sauce
King prawn with mixed vegetables
Egg fried rice (4)
£35.00
Pineapple Fritters in Syrup
£2.60
Chicken Wings with Chilli & Salt
Roast Chicken Chinese Style
Chow Mein Mixed Vegetables
Sweet & Sour Chicken Balls
Sweet & Sour Chicken Hong Kong Style
Sweet & Sour Pork Hong Kong Style
Sweet & Sour Mixed Vegetables
Black Bean Sauce Roast Pork
Chicken with Mixed Vegetables
Chicken with Sweet & Sour Hong Kong Style
Chicken with Black Bean Sauce
Beef with Mixed Vegetables
Beef with Black Bean Sauce
Roast Pork with Chop Suey
Roast Pork with Mixed Vegetables
Pork with Sweet & Sour Hong Kong Style
Roast Pork with Black Bean Sauce
Roast Pork with Black Bean Sauce
Chicken Wings with Chilli & Garlic Salt
Pork with Chilli & Garlic Salt
Chicken with Chilli & Garlic Salt
King Prawn Curry with Curry
King Prawn with Chop Suey
King Prawn with Mixed Vegetables
King Prawn with Black Bean Sauce
Mixed Vegetable Roast Pork
Grilled Chicken Dumplings (6)
£4.80
Grilled Pork Dumplings (6)
£4.80
Egg Foo Yung A. King Prawn
£5.60
Egg Foo Yung E. Roast Pork
£5.00
Egg Foo Yung H. Mushroom (V)
£5.00
Egg Foo Yung I. Mixed Vegetable (V)
£5.00
Duck in Sweet & Sour Cantonese Style
£6.00
Black Bean Sauce Vegetarian
£5.50
Mixed Vegetables Vegetarian
£5.50
Ginger & Spring Onion Duck
£6.00
Ginger & Spring Onion Vegetarian
£5.50
Honey Spicy Sauce Vegetarian
£5.50
Mushroom Vegetarian Chicken
£5.30
Black Bean Sauce Vegetarian Chicken
£5.30
Chop Suey Vegetarian Chicken
£5.30
Mixed Vegetables Vegetarian Chicken
£5.30
Black Pepper Vegetarian Chicken
£5.30
Bamboo Shoots & Water Chestnut Chicken
£5.30
Bamboo Shoots & Water Chestnut Vegetarian Chicken
£5.30
Pineapple Vegetarian Chicken
£5.30
Tomato Vegetarian Chicken
£5.30
Ginger & Spring Onion Chicken
£5.30
Ginger & Spring Onion Vegetarian Chicken
£5.30
Honey Spicy Sauce Chicken
£5.30
Honey Spicy Sauce Vegetarian Chicken
£5.30
Cashew Nuts Vegetarian Chicken
£5.30
Broccoli in Oyster Sauce Chicken
£5.30
Broccoli in Oyster Sauce Vegetarian Chicken
£5.30
Straw Mushroom Vegetarian Chicken
£5.30
Kung Po Sauce Vegetarian Chicken
£5.30
Satay Sauce Vegetarian Chicken
£5.30
Hoi Sin Sauce Vegetarian Chicken
£5.30
Szechuan Sauce Vegetarian Chicken
£5.30
King Prawn with Black Bean Sauce
£5.50
King Prawn with Chop Suey
£5.50
King Prawn with Mixed Vegetables
£5.50
King Prawn with Black Pepper
£5.50
King Prawn with Bamboo Shoot & Water Chestnut
£5.50
King Prawn with Pineapple
£5.50
King Prawn with Ginger & Spring Onion
£5.50
King Prawn with Broccoli in Oyster Sauce
£5.50
King Prawn with Straw Mushroom
£5.50
King Prawn with Satay Sauce
£5.50
King Prawn with Hoi Sin Sauce
£5.50
King Prawn with Cashew Nut
£5.50
King Prawn with Kung Po Sauce
£5.50
King Prawn with Szechuan Sauce
£5.50
Squid in Black Bean Sauce
£5.50
Squid in Black Pepper Sauce
£5.50
Squid with Ginger & Spring Onions
£5.50
Squid with Mixed Vegetables
£5.50
Beef with Black Bean Sauce
£5.40
Beef with Mixed Vegetables
£5.40
Beef with Bamboo Shoots & Water Chestnut
£5.40
Beef with Ginger & Spring Onion
£5.40
Beef with Honey Spicy Sauce
£5.40
Beef with Broccoli in Oyster Sauce
£5.40
Lamb A. Ginger & Spring Onion
£6.60
Lamb C. Black Pepper Sauce
£6.60
Lamb F. Szechuan Sauce (Spicy)
£6.60
Thai Green Curry A. King Prawn
£6.00
Thai Green Curry C. Chicken
£5.80
Thai Green Curry E. Special
£6.10
Thai Green Curry F. Bean Curd (V)
£5.70
Thai Green Curry G. Mixed Vegetables (V)
£5.70
Thai Red Curry A. King Prawn
£6.00
Thai Red Curry C. Chicken
£5.80
Thai Red Curry E. Special
£6.10
Thai Red Curry F. Bean Curd (V)
£5.70
Thai Red Curry G. Mixed Vegetables (V)
£5.70
Thai Sweet Chilli Sauce A. King Prawn
£6.00
Thai Sweet Chilli Sauce B. Beef
£5.80
Thai Sweet Chilli Sauce C. Chicken
£5.80
Thai Sweet Chilli Sauce D. Duck
£6.20
Vegetarian Aromatic Crispy Duck
Served with spring onions, cucumbers, pancakes & homemade hoi sin sauce
£7.50
Vegetable Pancake Rolls (10)
£3.10
Vegetable Hot & Sour Soup
£2.70
Mushrooms in Black Bean Sauce
£3.70
Mixed Vegetables in Black Bean Sauce
£3.70
Bean Curd with Ginger & Spring Onion
£4.80
Bean Curd in Black Bean Sauce
£4.80
Bean Curd with Mixed Vegetables
£4.80
Sweet & Sour Mock Chicken
£4.80
Sweet & Sour Mixed Vegetables
£4.20
Singapore Style Vegetable Chow Mein
£4.90
Singapore Style Vegetable Vermicelli
£4.90
Sweet & Sour Style Vegetable Vermicelli
£4.90
Aubergine with Black Bean Sauce
£5.20
Aubergine with Oyster Sauce
£5.20
Aubergine with Szechuan Sauce
£5.20
Aubergine with Black Pepper
£5.20
Fried Pork Belly with Chilli Spicy Sauce
£8.00
Pork Chop with Ginger & Spring Onion
£8.00
Pork Chop with Chilli & Garlic Salt
£8.00
Pork Chop Fried Cantonese Style
£8.00
Pork Chop in Black Pepper Sauce
£8.00
Sliced Beef with Chilli Oil
£8.00
Fried Lamb with Chilli Spicy Sauce
£8.00
House Spicy Shelled King Prawn
£8.10
Shelled King Prawn with Chilli Spicy Sauce
£8.10
Shelled King Prawn with Ginger & Spring Onion
£8.10
Shelled King Prawn in Sweet & Spicy Sauce
£8.10
Aubergine Fried with Spicy Mince
£8.00
Aubergine Fried with Soy Sauce
£8.00
Aubergine in Chilli Sauce
£8.00
Sauteed Vermicelli with Spicy Minced Meat
£8.00
Fried Chinese Leaves Oyster
£5.50
Fried Chinese Leaves Vinegar
£5.50
Fried Chinese Leaves Chilli
£5.50
Deep Fried Beancurd with Chinese Leaves
£6.10
Lettuce in Garlic & Oyster Sauce
£5.10
Fried Beef Ho Fun Home Made Spicy
£6.00
Fried Beef Ho Fun Home Made Satay
£6.00
Home Made Spicy Fried Rice
£6.00
Home Made Spicy Vermicelli
£6.00
Scrambled Egg with Tomato
£6.00
Home Made Spicy Udon Chicken
£6.00
Home Made Spicy Udon Beef
£6.00
Home Made Spicy Udon Pork
£6.00
Chow Mein with Beansprouts
£3.40
Stir Fried Bamboo Shoots & Water Chestnuts
£3.20
Stir Fried Mushrooms in Gravy
£3.40
Stir Fried Mixed Vegetables
£3.40
Stir Fried Broccoli in Oyster Sauce
£3.60
Best Food Chow Mein (Wet)
£5.50
Mixed Vegetable Chow Mein
£4.90
Bami Goreng Singapore Chow Mein
£5.30
Best Food Fried Rice (Wet)
£5.50
Nasi Goreng (Singapore Fried Rice)
£5.30
Mixed Vegetable Fried Rice
£4.90
Sweet & Sour King Prawn Ball
£5.30
Sweet & Sour Chicken Ball
£4.90
Sweet & Sour King Prawn Hong Kong Style
£5.40
Sweet & Sour Chicken Hong Kong Style
£5.00
Sweet & Sour Pork Hong Kong Style
£5.00
Sweet & Sour Mixed Special Hong Kong Style
£5.30
Chef's Special
King prawn, chicken, roast pork & vegetables
£5.70
Happy Family
King prawn, beef, chicken & vegetables
£5.70
Wandering Dragon
King prawns & roast pork with vegetables in black bean sauce
£5.70
Wandering Phoenix
King prawn & chicken with vegetables in black bean sauce
£5.70
Aromatic Crispy Pork in Sauce
Gently fried until crispy & cooked in a chefs special sauce, served on a bed of pineapple
£5.80
Yin Yong Chicken
Chicken & roast pork on beansprouts with barbecue sauce
£5.50
Yin Yong Duck
Duck & chicken on beansprouts with barbecue sauce
£5.70
Chicken with Spicy Fruity Sauce
£5.50
Pork with Spicy Fruity Sauce
£5.50
Crispy Shredded Beef in Peking Sauce
£5.70
Crispy Shredded Chicken in Peking Sauce
£5.70
Crispy Shredded Chicken with Spicy Sauce
£5.70
Crispy Shredded Beef with Spicy Sauce
£5.70
Sweet & Sour Chicken in Cantonese Style
£5.70
Chicken & Pineapple in Lemon Sauce
£5.70
Chicken & Pineapple in Orange Sauce
£5.70
Roast Chicken in Chinese Style
£5.50
Crispy Aromatic Duck Quarter
Served with spring onions, cucumber, pancakes & homemade hoi sin sauce
£8.30
Crispy Aromatic Duck Half
Served with spring onions, cucumber, pancakes & homemade hoi sin sauce
£14.50
Crispy Aromatic Pork
Served with spring onions, cucumber, pancakes & homemade hoi sin sauce
£7.30
Mix Platter For 2 Persons Barbecue Sauce
4 Barbecued spare ribs, 2 pancake rolls & 2 sesame prawn toast
Choice of barbecue, curry or sweet & sour sauce
£6.50
Mix Platter For 2 Persons Curry Sauce
4 Barbecued spare ribs, 2 pancake rolls & 2 sesame prawn toast
Choice of barbecue, curry or sweet & sour sauce
£6.50
Mix Platter For 2 Persons Sweet & Sour Sauce
4 Barbecued spare ribs, 2 pancake rolls & 2 sesame prawn toast
Choice of barbecue, curry or sweet & sour sauce
£6.50
Deep Fried Crispy Crab Claws (2)
£2.90
Deep Fried Crispy Seaweed
£3.00
Butterfly King Prawn Breadcrumbs (3)
Prawn cutlet
£3.20
Salt & Pepper Chicken Wings
£3.90
Spicy Fruity Chicken Wings
£3.90
Satay Chicken on Skewers (4)
£4.30
Fried Crispy Wan Ton (9)
With sweet & sour sauce
£2.90
Curry H. Mock Chicken (V)
£4.90
Curry K. Mixed Vegetable (V)
£4.80
Contact Us
Find Us
28 Wollaton Road, Nottingham, NG81FD
We deliver to
NG1, NG6, NG7, NG8, NG9